Production
As an authorized professional Austrian facility plant the pump aggregates are produced, assembled and maintained, under observance of  European regulations and Standards.
Our workshop, equipped  with the newest technologies and latest stand of art tools, guarantees a professional manufacturing of the pump aggregates. Certifying and testing  are carried out on test stands, according to the customer requirements.
Professional packaging, document supply and dispatch are carried out, according to the transport demands, by well-known logistic partners.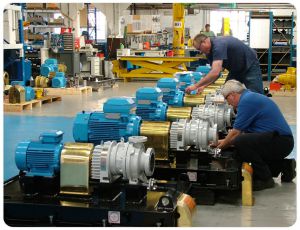 Technical Service
We offer technical service starting from, supply, installation, start up and after-sales service including spare parts management and serious trouble shooting.
Especially in the field of water handling and treatment as well as Petrochemical and Chemistry Industry we are present with a strong team of engineers specialised in rotating equipment and instrumentation.